Juxtaposition and Reflection

Taken with the help of a zoom from Chicago River edge, the Merchandise Mart at my back , this shot was taken at around 4-4:30pm.
Dusk in Chicago happens real early during a North American Autumn (Fall). I'm unsure of the buildings reflected or of the one providing
the display but there is a certain amount of juxtaposition in the architectural styles discernible and the reflection with the lamp light is
very becoming. It is probably the best type of shot to be taken of this sort of modern architectural construction?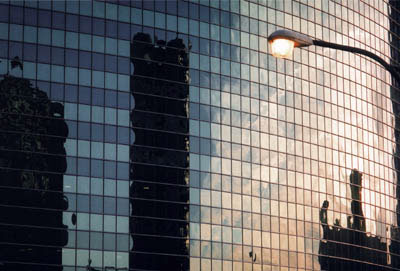 image © lee-anne raymond